Hi Friends! Today I'm linking up with Mrs. Jump's Class for
Book Talk Tuesday
! There were so many great books talked about at the I Teach K conference, I wanted to buy them all! Sadly, I can't afford to do that. Plus I don't exactly have that much space in my classroom!
When I saw Deanna's linky party I decided to buy one book per week for the rest of the summer! This week the book is the newest by the fabulous Mo Willems. I love all of his books, but this one is about friendship! Gerald gets a bit nervous when Piggie makes a new friend, but in the end he learns that it's okay to have other friends and still have your best friend. I think it's a perfect book for kindergarten because this is something we deal with all the time!
You can get the book anywhere but I'm an Amazon Prime addict so that's where I got my copy :)
You can get my Text-to-Self Connection page for free here!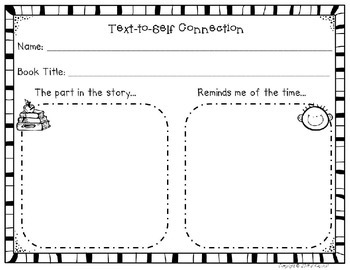 Don't forget to enter my giveaway!
a Rafflecopter giveaway
And my Christmas in July Sale - 20% off my
Leter Sound Interventions Pack
ends tomorrow!
And don't forget to check out
Big Time Literacy!
I'm still blogging (almost) everyday this month!
Pin It