I hope everyone is having a fantastic Fourth of July!!! We are getting ready to set off some fireworks at my sister's house in a bit and I just woke up from a nap because apparently I was a bit on the "cranky" side.
Oh well, the reason I was so tired is because we were out at a 51's game last night! And we stayed for fireworks. We were definitely spoiled because we got to sit in the clubhouse in the AC!! It was a 100 billion degrees in Vegas last night.
Today's blogging challenge topic is our favorite subject to teach! I LOVE teaching everything to do with reading. The alphabet, comprehension, reading groups, doing shared reading... I love it all. I love books and I have so many that I probably should give some away, but I can't because there are books in my classroom from when MY kids were little. Well I'm rambling now, probably my nap wasn't long enough.
Since it's The Fourth of July I my
Red, White and Blue Alphabet
is Free today!!! Hope someone can use it! Have a fabulous holiday!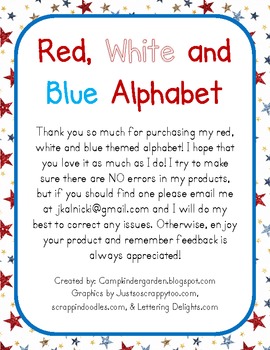 Pin It